Welcome to
Ascension & St. Mark
Episcopal Church
Wise County, Texas
Sunday Worship: 10:30 am.
Children's Sunday School
Nursery Available
We'd love to have you join us.
5094 US HWY 380
Bridgeport, TX 76426
(940) 683-6321
Between Decatur and Bridgeport on the north side of US HWY 380.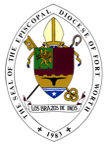 Stay in touch...
Be sure to fill out the new information sheet to be sure you are on the mailing list for church mail. See Anna for details.
To receive church emails, send an email to this link. You will be sent instructions to finalize your sign up. To email the entire parish family, use the address in the confirmation email you received.

Services
Morning Prayer - Sunday: 9:30 am
Rite 1 Service - Sunday: 10:30 am
Rite 2 Service - Thursday: 7:00 pm
Holy Eucharist with Healing Unction
Coming Soon to ASM
Ascension Day Fun - May 25
5 pm: Go Fly a Kite (or balloons, or bubbles)
6 pm: Hot Dog! It's a cookout
7 pm: Ascension Day Mass
Bishop Iker Golf Challenge - June 2
Bishop's Committee
Contact any member with ideas or concerns.
Members: Mary Howard (Sr. Warden), Alan Jackson (Jr. Warden), Joyce Beard, Tank Clark, Butch Haas, Carren Ziegenfuss
Meetings: 3rd Sunday at 12:30 pm