Welcome to
Ascension & St. Mark
Episcopal Church
Wise County, Texas
Sunday Worship: 10:30 am.
Children's Sunday School
Nursery Available
We'd love to have you join us.
5094 US HWY 380
Bridgeport, TX 76426
(940) 683-6321
Between Decatur and Bridgeport on the north side of US HWY 380.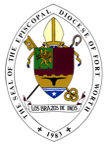 Stay in touch...
Be sure to fill out the new information sheet to be sure you are on the mailing list for church mail. See Anna for details.
To receive church emails, send an email to this link. You will be sent instructions to finalize your sign up. To email the entire parish family, use the address in the confirmation email you received.
Mar 27: Easter Resurrection Sunday
7 am Sunrise Service - lighting of Pascal Candle
10:30 am Mass
Finger foods will be served
Easter egg hunt follows (please bring filled eggs)
Mar 25: Good Friday
12 pm (noon): Stations of the Cross
7 pm: Good Friday Liturgy
Mar 24: Maundy Thursday
7 pm Service
Vigil follows: "Will you watch with me one hour?